Legacy of Lies
Archway/Simon Pulse/ Simon & Schuster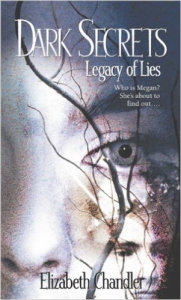 Something is haunting Megan...

She had seen Scarborough House only in her dreams. Now Megan was here, visiting the grandmother she'd never met, and her newfound cousin Matt, too handsome by far, who wanted her to disappear. Grandmother was so cold, so distant. Why did she finally reach out to Megan after all these years? And why was Matt so determined to call her his "almost" cousin? For all her prophetic dreams, nothing could have prepared Megan for Matt's astonishment when he first saw her...or the reaction of perfect strangers who looked at her with fascination -- and fear...

Megan thought she knew who she was. Until she came to Grandmother's house. Until she met Matt, who angered and attracted her as no boy had ever done before. Then she began having dreams again, of a life she never lived, a love she...

From School Library Journal

Gr 6-9. Megan isn't looking forward to visiting her mother's mother, who has summoned her. Helen Barnes's coolness toward her granddaughter goes beyond the fact that Megan was adopted. As the days pass, strange dreams haunt the teen and give way to uncanny placements of household objects that had been removed or abandoned years ago. Megan struggles with many things: her physical attraction to her cousin; the feeling that she had lived in this forbidding house before; and the fact that her grandmother grows more hostile with each day. The girl's uneasiness bursts into fear as she discovers that she is destined to repeat the tragic incident that killed her grandmother's younger sister many years before. The author blends reality and the supernatural into an engaging suspense novel. Each character, both primary and supporting, continues to develop throughout the story, and the true murderer is not revealed until the end. Carefully drawn chapters bring readers into Megan's mystery and leave them satisfied at the end. A good choice for teens who enjoy a blend of mystery, suspense, romance, and the supernatural.-Jana R. Fine, Clearwater Public Library System, FL.
Copyright 2001 Cahners Business Information, Inc.
From Booklist
Gr. 6-12. Sixteen-year-old Megan has been haunted by deadly dreams that only become more intense and confusing when she visits her estranged grandmother for the first time. To complicate matters further, Megan's gorgeous but standoffish cousin, Matt, is harboring family secrets of his own. Being snubbed by her hosts gives Megan time to explore the eerie plantation and sneak into many places her grandmother refuses to let her see. As her nightmares become out-of-body experiences, Megan determines to unlock the secrets of this strange phenomenon. With some information about karma and reincarnation from a local fortune teller, Megan's dreams mesh with her grandmother's painful past, unraveling a tense and thrilling mystery. From the very first page, Megan's thoughts and dialogue reveal a gutsy, likable protagonist that draws readers into a story that shows steady pacing, absorbing tension, and satisfying character development--including some surprising romances. Roger Leslie.
Copyright © American Library Association. All rights reserved.